PTI`s Paint Shop in Mississauga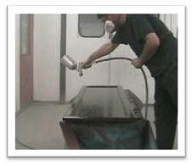 Located in Mississauga, Painting Transformations Inc. operates a large paint workshop equipped with a professional spray booth and all the necessary equipment to handle your detailed painting requirements.
In our workshop we can paint just about anything in your home that would require a specialized spray finish including cabinets, vanities, furniture, doors and many other specialty items.  They can even paint new custom or rebuilt kitchen and vanity cabinets from scratch.
With our three decades of experience, we can achieve factory-finish results by repainting with manufactures original products in specially designed spray booths.
Our process involves removing existing cabinet doors and drawer for complete refinishing inside our shop.  We then clean, prime and refinish in lacquer to meticulously produce the original manufacturers finish.  Any existing fixed panels (parts of the cabinets we cannot remove) will be hand painted to match the lacquer finish.   In cases where parts of the cabinets cannot be removed from the kitchen, PTI can prepare your home much like a "mobile spray booth" and conveniently spray the existing, mounted cabinetry for an identical finish.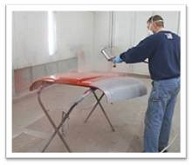 PTI also has the ability to paint metal items like patio furniture, bikes, tools and other hardware. This includes any sand blasting and/or powder coating many items to achieve the original manufacturers finish, essentially making the product brand new once again.